WHAT IS POWER SKATING ?
Powerskating
Weight transfert
Stride efficency
Explosive starts
Speed and accelerations
Tight turns
Side to side moves
Direction changes
Forward and backward crossover
Pivots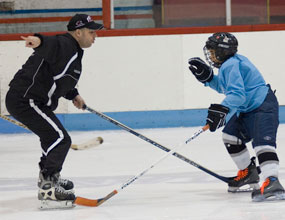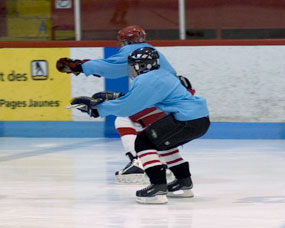 The most important skill in hockey remains skating. The fact is, the best hockey players are by definition great skaters. The Power Skating tehniques that are taught in our sessions are adapted specifically for hockey, with the goal of improving a player's technique.
WHY SHOULD I REGISTER FOR POWER SKATING CLASSES ?
Power Skating is an essential tool for all players (including goalies) who wish to attain their next level of development. Power Skating remains one of the quickest and most effective methods of improving as a hockey player.
WHAT ARE THE ADVANTAGES OF POWER SKATING ?
On top of being an excellent activity for getting and staying in shape, Power Skating helps a player develop foot speed, creates power in their strides, as well as improving their mobility and agility.
Next sessions
Fall-Winter Session 2014-2015
POWERSKATING
5 X 90 minutes - 350 $
(taxes included)
Ratio
1 coach for 4 players
Dates :
Session 1:

October 1-8-15-22-29

Session 2:

November 5-12-19-26 and December 3

Session 3:

January 7-14-21-28 and February 4

Session 4:

February11-18-25 and March 11-18
Location:
Colisée de Laval
Semi-private lessons also available on call only
Consult our detailed schedule and register on line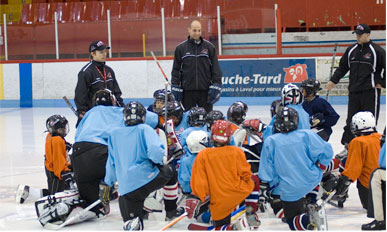 « A great way to improve skating skills and to get in shape for a new hockey season. »

Schedule - 2013-09-18
Fall-Winter 2013 session
Next Session date
Session 1:
2-9-16-23-30-october
Session 2:
6-13-20-27 nov / 4 dec
Session 3:
11-18 dec / 8-15-22 jan
Session 4:
29 jan / 5-12-19-26 feb
Session 5:
5-12-19-26 mars / 2 avril.